Get high-quality engineering and cutting-edge design into your bathroom at an affordable price.
Buy a Cascata shower enclosure at Bathroom Heaven and it comes with a specially-manufactured shower tray. Plus, many models include internal glass shelving which is a great space-saver.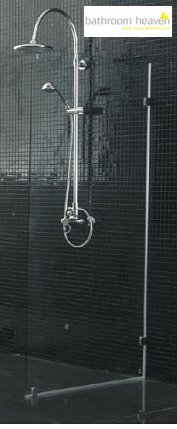 To view Bathroom Heaven's full Cascata shower enclosure range just click here
According to the retailer, Cascata products feature sturdy aluminium frames and safety glass surrounds with a minimum thickness of 6mm – some units use even tougher glass.
This means the range offers you safety, style and durability. And you won't have to move heaven and earth to pay for them, either, since prices start at less than £300 and there are frequent special offers for you to take advantage of.
Whether you're looking for a rectangular, D-shaped, circular, frameless or semi-frameless, offset, corner, sliding door or even pentagonal enclosure, there's something in this collection for you.
Some models feature drying areas as well as storage. And if a walk-in shower or wetroom is your ambition then there are Virino shower screens and curved to die for.