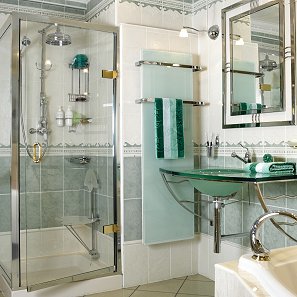 Here's a beautiful household product – the glass radiator. That's right – instead of all that nasty painted metal, you simply have a sheet of glass that radiates heat.
Sold by a company called Warm Corner, the Solaris range is clearly suitable for bathrooms, as a picture of one features in its promotional material (right).
And the manufacturers say that it is more energy efficient and easier to maintain than a standard system with metal radiators.
Sounds like a winner all round – in fact, we quite fancy installing this at MBF Towers.
For more information, visit the Warm Corner website here.