It's always worth popping along to Bathroom Heaven, since this boutique retailer has one of the most stylish ranges in UK bathrooms, almost always combined with a great range of items at sale prices.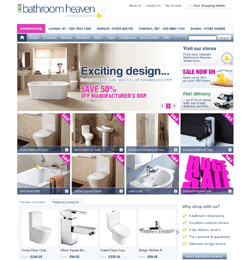 But now there's another reason to check them out – this retailer has just relaunched its website and says it will be adding many new products in the coming weeks.
The company says it designed the new site to help showcase its products and allow it to connect homeowners with the items they need to build a dream bathroom.
It points to the high-quality images and comprehensive product descriptions to help customers find what they need, as well as offering advice articles and style guides.
It says that these will help immensely if you're in need of some inspiration to help create a bathroom that fits into your home, or if you want to find out how to complete a DIY project such as a wetroom installation.