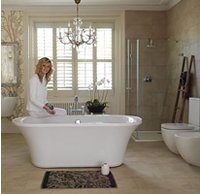 Bathroom Heaven has been running a range of products featuring well-known interior designer and TV personality Linda Barker since its website redesign earlier this year. But recently Ms Barker has been talking about what persuaded her to work with the company.
She said: "Design is integral to creating the perfect bathroom for your home. All too often our bathrooms are squeezed into tiny rooms or en suites off the bedroom and often this is when design needs to work its hardest.
"My bathroom range reflects what I would need from a great bathroom. The quality of the materials used is exceptional from the baths to the glass shower screens to the pillar taps and plugs.
"Bathrooms are intensely private places where we relax and find our sanctuary; I wanted the quality of this experience to be available for everybody, not just the privileged few. These products do just that, at a price that is competitive"
She said that, when creating the range, she drew upon her experiences of bathrooms around the world in order to design a bathroom collection that would offer practicality, quality and value for money.
The range includes the Linda Barker bathroom suite, brassware collection and roll top bath.
Bathroom Heaven boss Craig Dessoy is also delighted with the alliance, as you might expect. He said: "Linda Barker has created a truly stunning bathroom collection. She is one of the most gifted interior designers of her generation and Bathroom Heaven is delighted to be working with her"