A water efficiency competition aimed at teaching children the importance of not wasting resources in the bathroom has been won by pupils at a school in Hertfordshire.
The class of six-year-olds from St Margaret's School in Bushey beat more than 20 other schools in the south east and Home Counties to win a How to Wash competition run by the Bathroom Manufacturers Association (BMA).
The association teamed up with local water company Three Valleys Water to run a colouring competition as part of its campaigning work teaching young children about the importance of maintaining hygiene while using water wisely in the bathroom.
The winning class from St Margaret's won equipment to use in creating a water efficient garden for the whole school to enjoy. The children also received tokens to purchase a book of their choice.
BMA chief executive Yvonne Orgill said: "It was a tough competition to judge as the number and standard of entries was so high, which is very pleasing.
"Primary school children across the most water stressed areas of the UK now understand the importance of maintaining hygiene without wasting water. Now they will no doubt pass the message on to their parents.
"Being water efficient is not about restricting use, but reducing waste. That's what we wanted to teach them. We believe it's important to work with primary schools, as encouraging good behaviour at an early age can make a real difference to the way we use and regard water for life."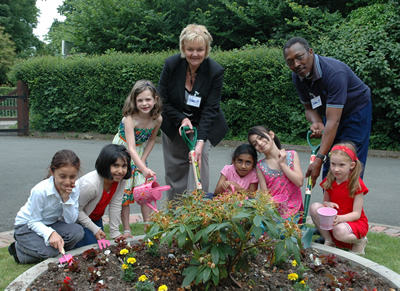 BMA chief executive Yvonne Orgill and Samuel Jacobs, one of the Three Valleys Water production team from the nearby Clay Lane Water Treatment Works, present wheelbarrows, garden tools, pots, plants, seeds and book tokens to St Margaret's school pupils.